The 
manga
version of Dreamland contains actually 14 volumes and one special chapter.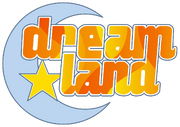 The first three volumes are being re edited in much cleaner and better quality with new covers. The 4th and the 5th volumes covers have been changed on that occasion.   
The 10th volume had a limited edition version. It contains a different cover, a special chapter (chapter 0) and a real Dream mag.
Thanks to the secret hidden in the 2000th page of the 10th volume, we know a special chapter about Asmodehus is coming.
Fire!


25 January 06
Chapter
Title
Dream 1
Fire!
Dream 2
Coefficient 4
Dream 3
Protect People's Dreams
Dream 4
Savane
Dream 5
Dreamland
Dream 6
To A New Blank Page
Dream 7
The Dark Realm
-
-
-
-
-
Duality


20 September 06
Chapter
Title
Dream 8
Toro Picana
Dream 9
The Ball
Dream 10
The Mega Ball
Dream 11
Chouquettes
Dream 12
Lord Magoss
Dream 13
Do You Hear That Cry?
Dream 14
Duality
Dream 15
Delirium City
Dream 16
Sabba and the Brush of Destiny
Dream 17
Black Travelers
Paths


16 May 07
Chapter
Title
Dream 18
The Future Is On The Move
Dream 19
Let The Girls Talk
Dream 3
The Shaaaame!
Dream 21
Ugly Eve
Dream 22
3 Guys, 1 Chick
Dream 23
Ben's Dream
Dream 24
Paths
Dream 25
Edenia
Dream 26
Started
Dream 27
Metro
Coma


14 november 07
Chapter
Title
Dream 28
Immortal black
Dream 29
7am to 7 45 am
Dream 30
Coma
Dream 31
Double
Dream 32
Damn book
Dream 33
Geriko
Dream 34
The choice
Dream 35
The kiss
Dream 36
Puke
Dream 37
Beginning
Traveler


06 June 08
Chapter
Title
Dream 39
Diploma
Dream 40
The wolves
Dream 41
The Traveler Killer
Dream 42
The number one
Dream 43
Welcome to zone 2
Dream 44
When Toro Picana and Asmodheus play Ping Pong
Dream 45
Summit meeting
Dream 46
Christal
Dream 47
D-Day
-
-
Kazinopolis


18 march 09
Chapter
Title
Dream 48
birth of a genius
Dream 49
Virgin !
Dream 50
Night of madness
Dream 51
Depressed summer
Dream 52
Kazinopolis
Dream 53
Diki Steak
Dream 54
The last floor
Dream 55
The Dreamland's Poker
Dream 56
Bet your life on a fool
Dream 57
A new fire bender
Attila


24 June 09
Chapter
Title
Dream 58
Golden Eye
Dream 59
Split
Dream 60
'For I will stay...your best friend"
Dream 61
Secretive
Dream 62
The Market
Dream 63
Lord Crazy
Dream 64
THe Return of Jimmy
Dream 65
Stagnation
Dream 66
The Revenge of Felix
Dream 67
Attila
Mojo


17 March 10
Chapter
Title
Dream 68
A New Lucky Star
Dream 69
First Fight
Dream 70
First Time
Dream 71
Virus
Dream 72
Mojo
Dream 73
Duel Kekes
Dream 74
Dancing Cats
Dream 75
Jimmy VS Attila
Dream 76
Goodbye Jimmy
Dream 77
Terrence VS Attila
Tattoo


15 September 10
Chapter
Title
Dream 78
Tattoo
Dream 79
Fight(s)
Dream 80
The Night of the Black Cat
Dream
Dream
Dream
Dream
Dream
Dream
Dream
Symphonia


19 october 11
Chapter
Title
{{{Dream #1}}}
{{{#1}}}
{{{Dream #2}}}
{{{#2}}}
{{{Dream #3}}}
{{{#3}}}
{{{Dream #4}}}
{{{#4}}}
{{{Dream #5}}}
{{{#5}}}
{{{Dream #6}}}
{{{#6}}}
{{{Dream #7}}}
{{{#7}}}
{{{Dream #8}}}
{{{#8}}}
{{{Dream #9}}}
{{{#9}}}
{{{Dream #10}}}
{{{#10}}}
Worldapart


13 june 12
Chapter
Title
{{{Dream #1}}}
{{{#1}}}
{{{Dream #2}}}
{{{#2}}}
{{{Dream #3}}}
{{{#3}}}
{{{Dream #4}}}
{{{#4}}}
{{{Dream #5}}}
{{{#5}}}
{{{Dream #6}}}
{{{#6}}}
{{{Dream #7}}}
{{{#7}}}
{{{Dream #8}}}
{{{#8}}}
{{{Dream #9}}}
{{{#9}}}
{{{Dream #10}}}
{{{#10}}}
Fiesta


06 March 13
Chapter
Title
{{{Dream #1}}}
{{{#1}}}
{{{Dream #2}}}
{{{#2}}}
{{{Dream #3}}}
{{{#3}}}
{{{Dream #4}}}
{{{#4}}}
{{{Dream #5}}}
{{{#5}}}
{{{Dream #6}}}
{{{#6}}}
{{{Dream #7}}}
{{{#7}}}
{{{Dream #8}}}
{{{#8}}}
{{{Dream #9}}}
{{{#9}}}
{{{Dream #10}}}
{{{#10}}}
Reunion


27 November 13
Chapter
Title
{{{Dream #1}}}
{{{#1}}}
{{{Dream #2}}}
{{{#2}}}
{{{Dream #3}}}
{{{#3}}}
{{{Dream #4}}}
{{{#4}}}
{{{Dream #5}}}
{{{#5}}}
{{{Dream #6}}}
{{{#6}}}
{{{Dream #7}}}
{{{#7}}}
{{{Dream #8}}}
{{{#8}}}
{{{Dream #9}}}
{{{#9}}}
{{{Dream #10}}}
{{{#10}}}
Marshmallow


25 June 2014
Chapter
Title
{{{Dream #1}}}
{{{#1}}}
{{{Dream #2}}}
{{{#2}}}
{{{Dream #3}}}
{{{#3}}}
{{{Dream #4}}}
{{{#4}}}
{{{Dream #5}}}
{{{#5}}}
{{{Dream #6}}}
{{{#6}}}
{{{Dream #7}}}
{{{#7}}}
{{{Dream #8}}}
{{{#8}}}
{{{Dream #9}}}
{{{#9}}}
{{{Dream #10}}}
{{{#10}}}